Nils Jäger receives doctorate
First PhD student of the Research Platform Fraunhofer UMSICHT with the University of Birmingham
Fraunhofer UMSICHT cooperates with the University of Birmingham on a cross-border basis, in a cooperation that makes it possible to do a doctorate in an international environment and to work in Sulzbach-Rosenberg. Nils Jäger has successfully completed his dissertation on "Techno-Economic Assessment of Conversion Processes for Biomass to Products - Technology Concepts for the Conversion of Biomass and Biogenic Residues" as the first doctoral candidate for this cooperation. His dissertation was supervised by Prof. Joe Wood, University of Birmingham, and Prof. Andreas Hornung, Head of Fraunhofer UMSICHT in Sulzbach-Rosenberg (period: January 2015 - January 2018).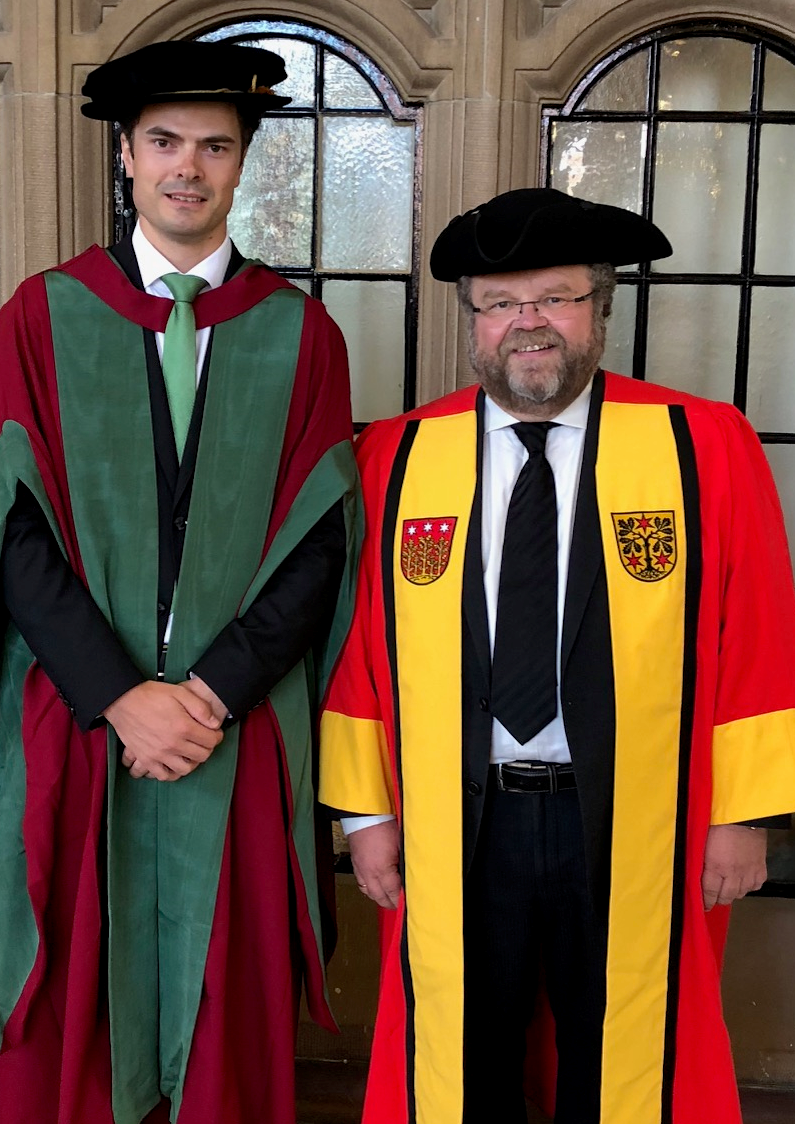 In the interview with Dr. Nils Jäger, about his doctorate:
On which topic did you earn a doctorate?
During my PhD I dealt with a techno-economic evaluation of different conversion methods. In particular, I researched the thermo-catalytic conversion of various biogenic waste fractions and low calorie fossil fuels. The aim was to generate substitutes for liquid, solid and gaseous fossil fuels / raw materials from these feedstocks, which can be integrated into existing processes and infrastructures without far-reaching adaptations. As a result, not only can residual material problems be solved, but also sustainably produced high-quality raw materials, and thus contribute to climate protection. On the basis of the results from the operation of the pilot plants, I evaluated the competitiveness of the process with different feedstocks and products compared to the current state of the art in an economic analysis. I was able to identify several promising applications and uses.
How was it to do a doctorate across national borders?
The opportunity to do a PhD in an international environment at the University of Birmingham while working on industrial and research projects with Fraunhofer UMSICHT was an outstanding experience. In particular, it was very helpful to be able to use the know-how of both platforms. The supervision by my two supervisors Prof. Hornung and Prof. Wood during the whole promotion was very goal-oriented and solution-oriented.
What's next for you? Which topic are you currently working on at Fraunhofer UMSICHT?
At UMSICHT, I continue to work on the conversion of biogenic and non-biogenic residues with the goal of helping to shape a sustainable turnaround in energy and raw materials. Among other things, I look after the EU project To-Syn-Fuel for UMSICHT, which aims to produce fuels with EN standard from dried sewage sludge on a demonstration scale.